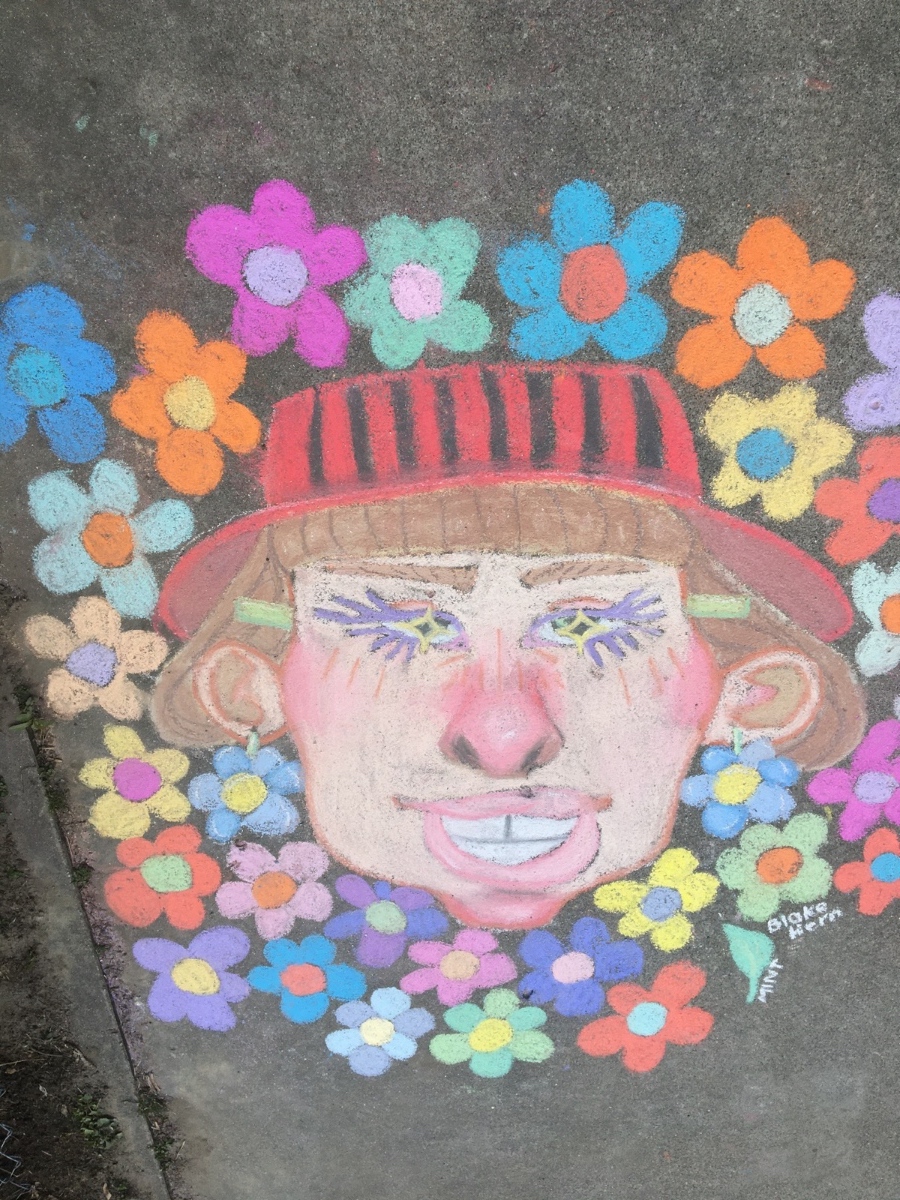 From hopscotch to tic-tac-toe,  there's plenty of ways chalk can cure your boredom. It's perfect for spring and summer activities. So we hope you join Mint Artists Guild's Cheerful #ChalkChallenge. 
We launched this last week and already are seeing sidewalk art and encouraging messages in Detroit and around the country and the world, some under the #chalkyourwalk hashtag.  
So here's two more ways to join the chalk fun and two other creative ways to engage while sheltering at home:
Chalk caricatures. Chalk is a tricky medium to work with, messy yet fun. Test your own and a friend's artistic skills and draw each other as funny exaggerated characters, using phone photos. If you're up for a real challenge, try doing it together – at least 6 feet apart. Funniest drawing wins all the marbles.
Have a family photoshoot.   Family photo shoots and portraits have been around for centuries for royalty and wealthy families, then for more  families through the 1960s, 1970s and 80s. Let's bring them back.  Pastbook offers 30 creative family photo ideas. Put on your fanciest or silliest threads.  Set up your smartphone/camera and take a photo to document this monumental time in our history.
Spread the creativity and inspiration. Go around your neighborhood leaving inspiration quotes for all the world to see! You'd be surprised at how much the little positive things affects others greatly. So grab some chalk and go make a difference. 
Create your  family tree.  With everyone being safe at home, this is a perfect time to interview  relatives who live with you or call those who don't.  Turn this into a fun interview-style activity to learn more about your roots. Use this family history questionnaire – 175 questions from Bobcats World – to start a journey of discovery.  Follow our previous posts with advice on interviewing your Grandma. 
Check back next week for more creative activities for challenging times.  If you want to recommend some, please email us your ideas!