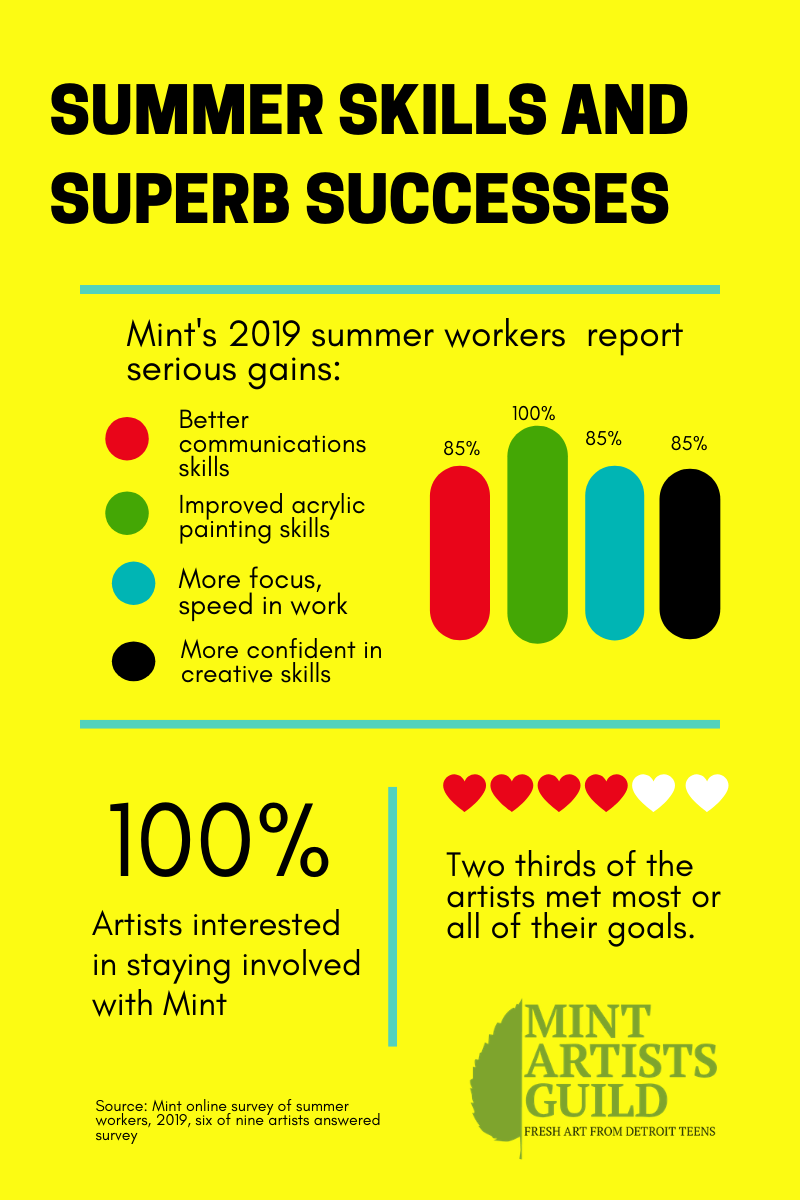 Mint Artists Guild looks forward to meeting many new artists each spring, as we hold Open Interviews for our Creative Summer Jobs program. We strive to be open to all and transparent about how we run Mint. And we prepare youth and their families with information – such as interview tips and more.
With all that in mind, we are sharing some frequently asked questions and answers about tour Summer Jobs program, ahead of our interviews in April.
1.  What  programs support Mint Creative Summer Jobs program?
Mint hires most of its young workers through Grow Detroit's Young Talent, or GDYT,  the city's youth jobs portal. So you must register with GDYT first. Mint also hires through Wolverine Pathways, a University of Michigan program that enrolls high potential students from Detroit, Southfield and Ypsilanti.
2. What does Mint look for in hiring young people for summer jobs?
We look for talented visual artists who are serious about their creative work and the possibility of a creative career. You must demonstrate artistic skills, passion and desire to learn more.  And attitude counts for a lot. We want hard working, optimistic, thoughtful and constantly-learning youth.  We also seek individuals who are altruistic and want to help others. Send us your work or links to it when you first contact us. And bring samples to your interview.
3.  What other criteria are there for becoming a Mint Summer Worker?
 Our program hires youth ages 14 to 21, who are that age by June 15. We know GDYT goes to 24 and we eventually may grow our program for artists with more experience. For now, Mint focuses on teens and early college, most of whom live in Detroit.  Artists must be interviewed in person at the Mint Studios to be considered. Open interviews are scheduled for April 7, April 18 and April  24. 
We will schedule other interview dates in May too. Because of the stay home / stay safe orders, our interviews are moved to Zoom or Google Hangouts. Please email us if you wish to be included and be sure to tell us about yourself and your best skills.
4.  What's it like to work for Mint in the summer?
Artists work in a creative space, a studio, surrounded by creative people. And they have projects and deadlines, and are expected to participate in exercises to build their productivity, focus and painting and mosaic making skills. 
We create together and independently, some serious work and some just for the joy and experience like our pal Sloopy, made at the end of the 2019 program.  Mint Artists create paintings, mosaics, linoleum cut prints, coloring pages, arts and crafts activities and other creative work as assigned, with support from professional artists and our teaching artist Ms. Jacquie,
We work  five or six hours a day, often in the afternoons or early evenings, from July 6 to late August. Most workers generally get their full 120 hours allowed by GDYT, in six or seven weeks, though some ask for compressed schedules and some need an extra week or so. We are flexible!
5.  And young artists are paid for this, to paint and create?
Yes! Pay is set by GDTY – ranging from $8.25 to $10 an hour, depending on age and title – and by Wolverine Pathways. Pay is every other week. Pay for hours or work beyond those covered by GDTY is negotiated with each artist and covered by Mint.  
Because artists are paid and Mint buys all art supplies, all the art and imagery created in the Mint Summer Jobs program belongs to Mint Artists Guild. That's the way it works at most businesses and nonprofits too. We encourage our young artists to photograph and share work created in their digital portfolio as work created while working for Mint Artists Guild.   Mint donates many of the paintings to other nonprofits through our Paint Detroit with Generosity initiative.
6.  What will artists learn through Mint Summer Jobs?
Artists definitely improve their acrylic painting skills. And they learn to create a mosaic, such as the beautiful butterflies that now hang in Palmer Park. They learn to be more focused and productive. They improve their communications skills and confidence, too, according to our surveys of participants.  And they do all this while earning money and creating art for the community. 
7.  What are the goals of Mint's summer jobs program?
Mint has set five goals for this program:
Improve productivity and build skills.
Develop skills artists need to work for clients such as multiple ideas, listening.
Give back through community service.
Grow Mint.
Raise reputations – our own and our artists. 
We also work with artists in our program to set one goal for themselves and measure their progress. 
8. How can I support Mint Artists Guild?
Producing a high-quality summer jobs program takes plenty of support from individuals and businesses. So please donate now – and make it a monthly donation if you are able.  If you wish to commission some work from us, please be in touch with Mint executive director Vickie Elmer about your idea  by mid-April.
We will launch a spring fundraiser specifically to support the 13 or 14 jobs we will create this summer; watch for news on that on our Facebook and Instagram within a few weeks.  And we always need art supplies, especially canvases and acrylic paints  
9. Where may I learn more about your work?
Mint shares information here on our blog and through this wonderful volunteer-created website. We even have frequently asked questions with answers here. So please browse those and follow us on Instagram, Facebook and Twitter.  If you're still curious, please send us more questions to answer!
And we hope some of you – or your offspring, nieces and nephews and grandchildren – will want to join us and will interview with Mint in April.